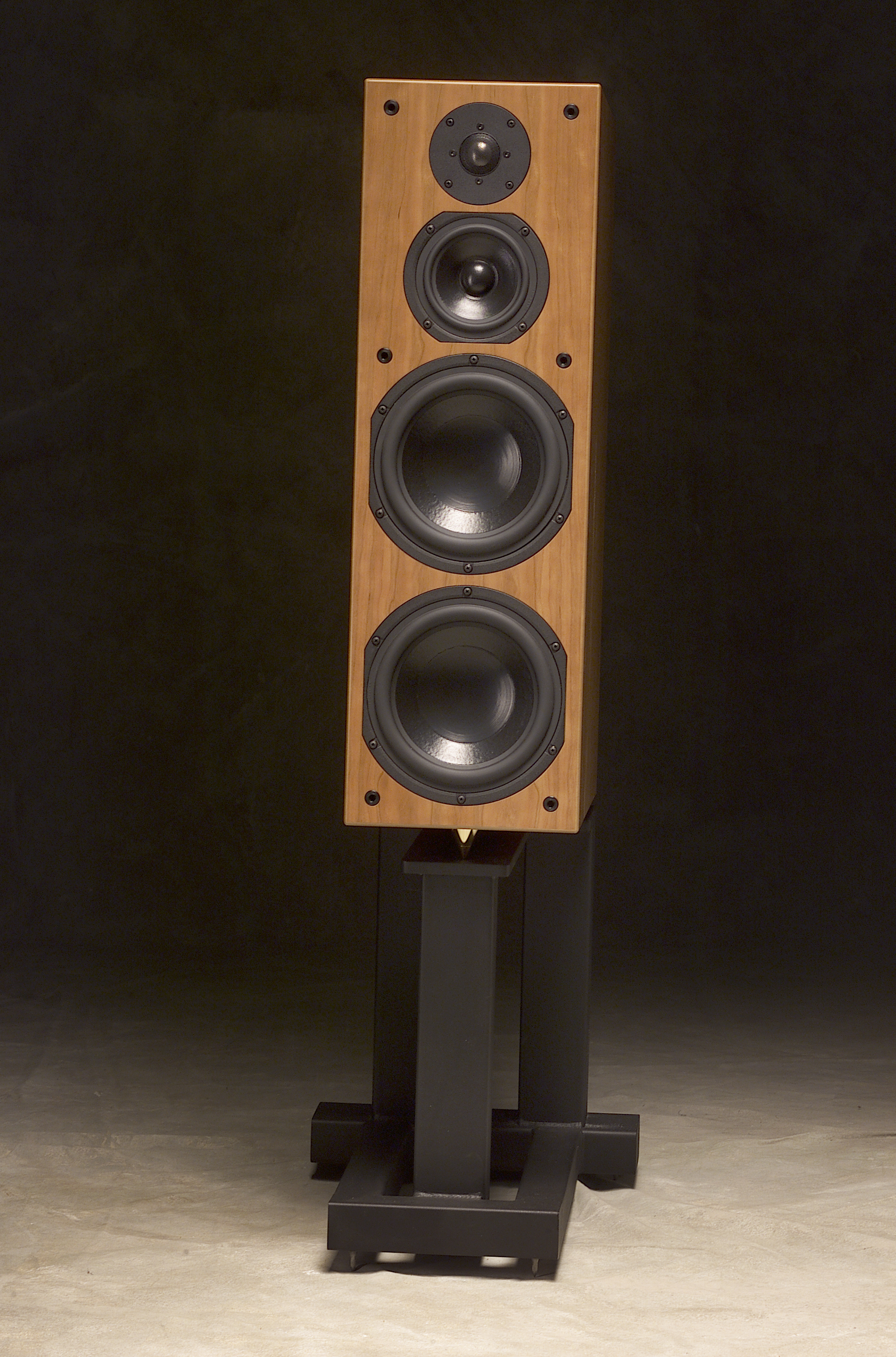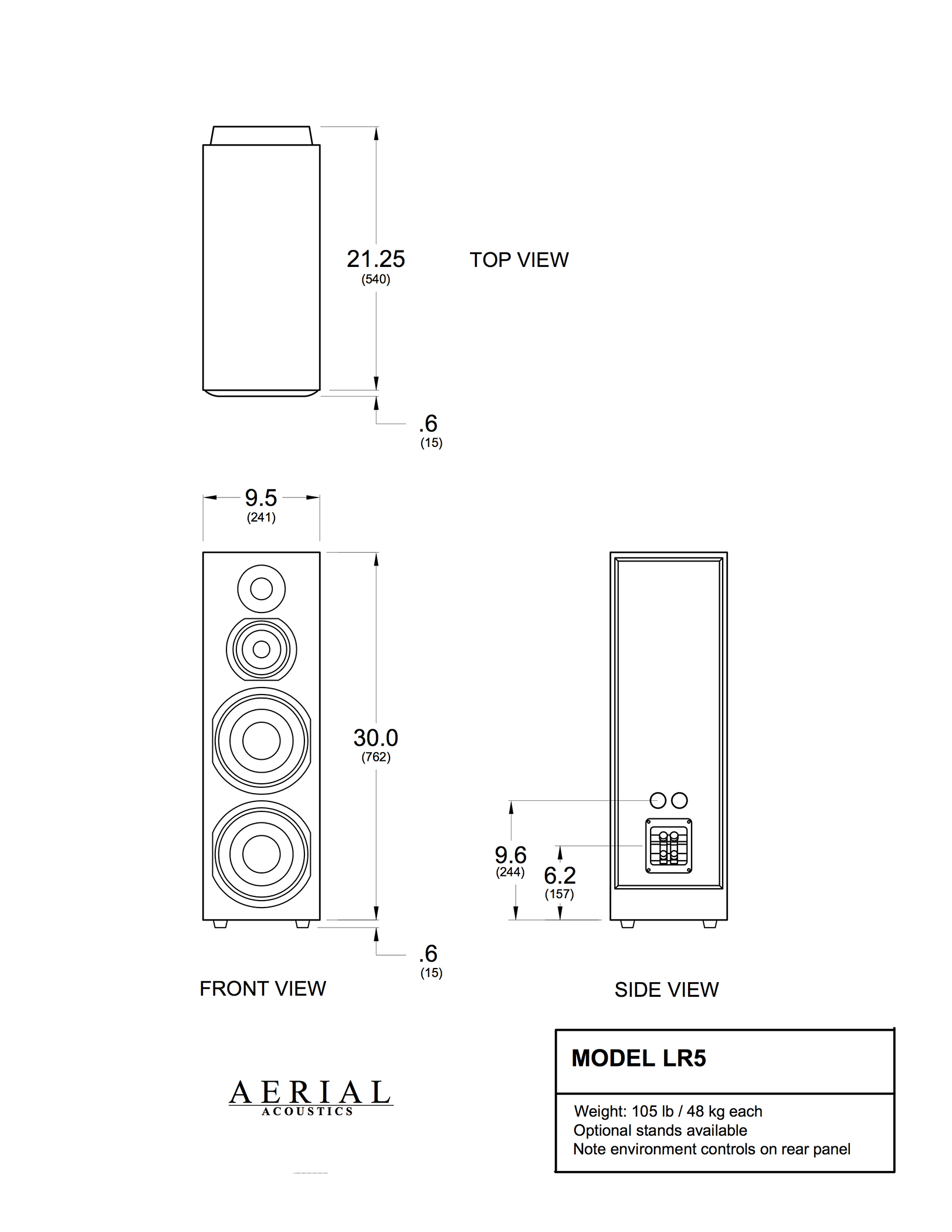 Aerial LR5
Musically accurate and dynamically expressive, the Aerial Acoustics Model LR5 delivers remarkable performance for its relatively compact size. A reference monitor design, it remains uncolored and highly detailed at all listening levels with an astonishing degree of intelligibility and naturalness. Its midrange voice is vivid and lifelike, and upper frequencies are airy and extended. Bass is fast, articulate, authoritative, and blends particularly well with subwoofers. An honest tonal balance and superb dynamic capabilities serve to reproduce music and film soundtracks equally well.
Whether employed in a professional or home environment, the LR5 performs exceptionally as a stereo pair, or as front or surround loudspeakers in a multi-channel system. Useful Environment and Treble controls optimize the response of the LR5 to suit its surroundings, insuring correctly balanced sound regardless of room or position. It is at home on its purpose-designed stands, on sturdy shelves, mounted into a wall, or placed in custom cabinetry.
An optional floor stand is available (shown in photo).
All Aerial loudspeaker systems are designed and constructed with fanatical attention to quality and detail. Decades of design and manufacturing experience have taught us that craftsmanship and technology go hand-in-hand when creating products of uncompromising performance and genuine long-term value. World class manufacturing techniques and production equipment are employed, complemented by the work of skilled craftsmen when only experienced hands will do.
Aerial Acoustics. Every detail matters.
---
Frequency Response 40Hz to 22kHz ±2dB, -6dB at 35Hz
Sensitivity 86dB at 2.83 Vrms and 1.0 meter on axis
Impedance 4Ω nominal, 3Ω minimum, low reactance
Power Requirements 100 to 700 watts (8Ω rating) recommended
Woofers Two 8.9″ (225mm) cast magnesium alloy frame drivers, damped bilaminate composite cones, oversized vented magnet structures with long-stroke coils
Midrange    6″ (150mm) cast magnesium alloy frame driver, damped bilaminate composite cone, vented magnet structure with linear stroke coil
Tweeter1.0″ (25mm) precision titanium dome, large magnet structure with deep rear chamber, flared pole vent and 5 surrounding vents
Crossover 360Hz and 2.8kHz at 24dB per octave, large independent networks on glass-epoxy PCBs, high-purity copper wiring, silver solder, premium passive components, environment and Treble controls
Cabinet Ultra-high density minimum resonance enclosure, extensive interlocked bracing, tongue and groove joints, mirror-imaged matched pairs in architectural veneers
Connections Four gold-plated binding posts with copper jumpers, bi-wire and bi-amp capable
Optional Stands  Rigid 17″ tall 64lb sand-filled floor stands with spikes
Dimensions HWD         30.6 × 9.5 × 22.0″ (777 × 242 × 559mm)
Weight Each 105lbs (48kg). 144lbs (66kg) packed